GET ACQUAINTED WITH THE VINEYARDS
Juanicó is characterized by its calcareous clay soils, its undulating terrain with good water drainage, seasons underscored by cold winters and hot summers with refreshing winds and high luminosity; all excellent conditions for high quality wines with great aging potential.
THE RANGE OF THE GREAT WINES OF THE SOUTH
Located between the 30th and 35th parallel South, Uruguay forms part of the Southern Hemisphere Wine Belt along with Chile, Mendoza, South Africa, Australia and New Zealand.
In total, Establecimiento Juanicó manages 307 hectares of its own vineyards and just over 150 hectares of associate producers' vineyards. They work in close collaboration throughout the year, carrying out similar tasks under the technical direction of the Establishment's agronomic team. This implies an unprecedented distribution of technology in Uruguay and has therefore become a model.
Due to the oceanic influence and afternoon winds on the River Plate Estuary, there is a significant thermal gradient between warm days and cool nights during the ripening period of the grapes.
Different varieties are cultivated on the Establishment and all clones and rootstocks with the greatest quality potential are chosen. All plots go through rigorous clonal selection, which allows a high homogeneity of the fruit produced.
The key white varieties are: Sauvignon Blanc, Chardonnay, Sauvignon Gris and Viognier
Among the red varieties, the following stand out: Tannat, Merlot, Cabernet Sauvignon, Cabernet Franc, Marselan, Shiraz, Pinot Noir and Petit Verdot
CHARACTERISTICS OF THE TERROIR
The first vineyards were planted in the Southern part of Uruguay, the Juanicó region, in soils with high clay content, medium depth and good water retention capacity due to silt-textured sedimentary rock from the Quaternary era.
A few years later, the area was extended to Progreso, on soils with similar textural characteristics but much richer in calcium carbonate. Vertisol, as this type of soil is called, has very expansive clay, which expands during hydration and contracts during dehydration, creating deep cracks which bring oxygen and life to the entire profile. Research and development led us to explore new terroirs, planting vineyards in many new wine-growing areas. All regions have a marked coastal influence (oceanic and the expansive River Plate Estuary) with an average temperature range of 10 to 15 degrees and average minimum temperatures in the maturation period of about 15 degrees, with a similar rainfall.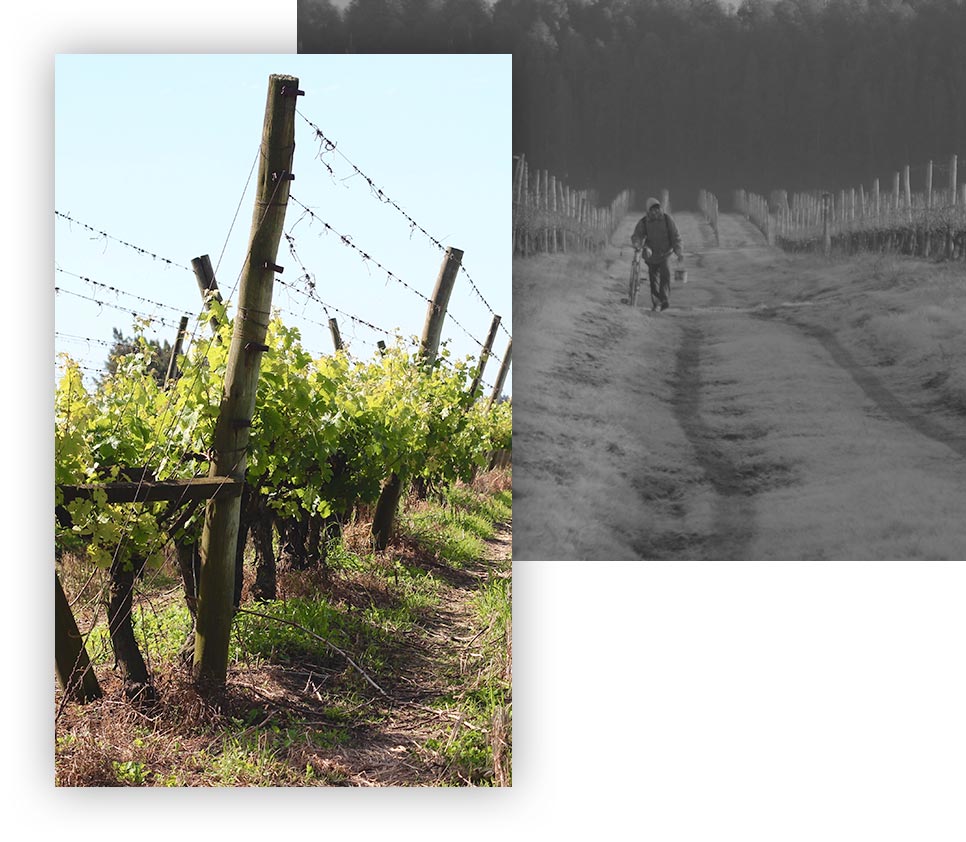 PRODUCTION MODEL
"We operate our vineyard on a sustainable production model, applying principles of organic agriculture with a strong emphasis on concern for the environment, the safety of our people and our products. The goal is to achieve a balanced viticultural ecosystem with minimal intervention and attention to detail around the impact of each of our actions"